Welcome to my unofficial website for "The Works", the unfinished film from the 1980s that would have been the first fully-CGI-animated film.
This website is best viewed on a desktop computer. Enjoy your stay!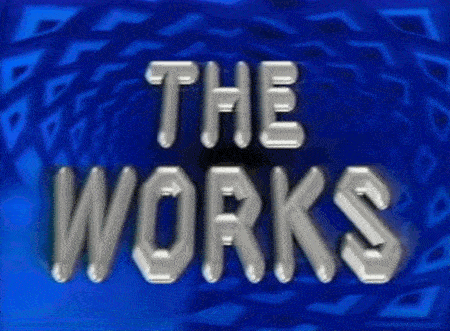 Questions, complaints, suggestions, contributions? Feel free to e-mail me at LucidLunarBeast [at] gmail [dot] com, or message me on any of my social medias!
♦ Update History ♦
5 December 2022
Made the button for the script larger.
Removed the Construction bot from this page (bye!)
19 June 2022
Uploaded the script in text form! Now it can be read in a browser.
27 May 2022
The script is back up on Drive under a different link, whoopee! So the Resources page has been updated again.
24 May 2022
Added 3DV to the list of videos
21 May 2022
Added Navigation panel to the Characters page
Added Script button even though I haven't finished converting it to text yet
It seems the script is no longer available on Google Drive, so the Resources page has been edited to reflect that. ::-[
20 May 2022
Edited Navigation panel yet again
Added the updated panel to more pages for consistency
22 April 2022
Fiddled with the Navigation panel
Made buttons fancier
20 April 2022
Aligned text on the About page to the left because I think it's easier to read that way
Added a graphic to the 404 page
19 April 2022
Finished bios for all characters with images! (There are a few characters from the script not on that page... Yet)
Reorganized some things on the Resources page slightly
Added tables of contents
18 April 2022
Still editing Characters but I think I'm almost done...
Added a "No image" image (lol)
Edited About page with some more info
15 April 2022
Chugging away at the Characters page
Added a link to the download of the script to Resources
14 April 2022
Tweaked several pages
Created "Characters" page & changed its CSS
Added more info to the About page, including a Credits section
Slowly adding tables of contents...
13 April 2022
Added a Navigation panel
Added more resources
Changed link colours
Created "About" page
12 April 2022
Created "Resources" page
Added my own button ::~]
Added this Update panel
11 April 2022
Website created!
Added background
Like my website? Consider putting my button on your own website and linking back here!

Click the button below to go to my personal art website.


Website est. April 11th, 2022, by Fortis Arbor. Powered by NeoCities.org.